Thank you for joining us for the VOLUME Facebook Group or YouTube Channel for a handmade book workshop. We hope you enjoyed learning how to make a beautiful (and useful!) Memento Holder featuring Club Scrap's What's Up, Buttercup? Page Kit.
The workshop was designed to help you create a hand-crafted album from any Club Scrap page kit plus a few additional materials. The book features a lovely decorative hand-stitched spine and includes a mix of standard and pocket pages.
Click on the blue text below to shop the project instructions.
If you're not familiar with the workshop, take a moment to preview the project and Craft Along Kit in this video!
Each kit contains the supplies needed to make a 6x9" handmade album with a lovely decorative stitched spine. (A few additional materials and tools will be required.)
The interior includes a mix of standard and pocket pages with plenty of space to store photos and mementos from any trip or special occasion.
The VOLUME Craft Along Kit is available in limited quantities and includes:
Buttercup Items: (4) 12x12 Printed Papers, (8) 12x12 Plain Papers, (2) 12.5x12.5 Printed Cutaparts, (12) Photo Mats, (3) Silk Flowers, (2) Mini Metallic Envelopes, (12) Flower Buttons, (1) Floral Masking Stencil, and (3) Ribbons
(1) 12x12 White Folding Board
(4) 9x12" Envelopes w/Clasp
(3) yds. White Waxed Cord
(1) Bookbinding Needle
(1) 8" Elastic Cord with Barbs
Printed Instructions
Additional Tools & Supplies
To participate in the virtual workshop, we recommend gathering the following:
CS® Bookbinding Glue
Needle-tipped Applicator
12" Paper Trimmer
3x14" Grid Ruler
Accordion Pocket File (optional)
Bone Folder
Scissors and Pencil
We strongly suggest viewing our full presentation prior to trimming the papers and making the project. Then, watch again while working at your own pace to ensure success! We promise you'll learn lots of tips and techniques along the way that will help you complete other similar projects in the future.
Tricia
---
If you plan to use supplies from your stash, you'll need to gather the following:
Memento Holder Instructions
CS® Page Kit of your choice
Memento Holder Components
12-inch paper trimmer
Accordion Pocket File (optional)
CS® Bookbinding Glue
3x14" Grid Ruler
Bone Folder
Scissors, Pencil
Memento Holder Instructions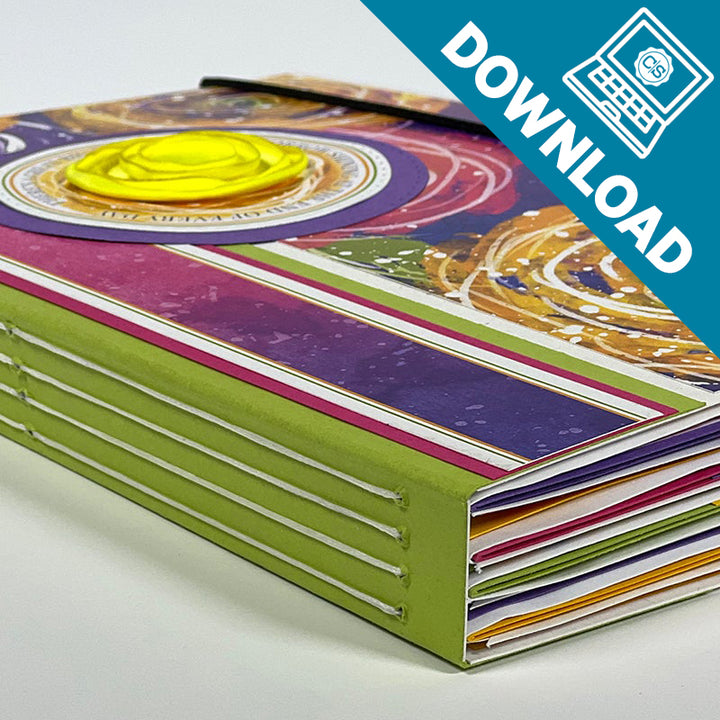 $11.05
THIS IS A DIGITAL PRODUCT SENT VIA EMAIL This workshop is designed to help you create a hand-crafted album from any Club Scrap page kit plus a few additional materials. The book features a lovely decorative hand-stitched spine and includes… Read More