It's Mariachi spoiler day! Don't read any further if you prefer to be surprised when your box arrives . . .
In case you missed the live unboxing event, you can view the entire video on Facebook right here:
Mariachi Page Kit
The Mariachi page kit is like a festive party in a box. Use layouts from the collection to showcase any special event like a birthday, New Year's event, retirement celebration, quinceañera, tropical vacation, and more.
Join today and your adventures as a member will begin with the Mariachi kit. You'll get the best possible kit price of $24.95, and there's no risk of a longterm commitment. (We love a nice, long commitment, but we're happy to earn that.) Give us a try!
Mariachi Card Kit
The card structures this month are nice 'n easy. Follow along with my workshop video and learn how to create an overlapping flap card, a clever way to make a vertical hinge card, and coast to the finish line with a single folded 5x7" card.
Whether you want to add the card kit to your membership line-up or simply make a one-time purchase, you can do that today! Customize your shipment any way you like within your member profile.
Mariachi Stamps
Julie got on a creative roll this month with the Mariachi stamps and just couldn't stop the momentum. Before she knew it, she had eight cards and a tag ready to go. Stay tuned to the blog this month for details on the cards and a fun tag tutorial!
If you're looking for inks to match the papers in this collection, I recommend our Lagoon, Red, Tangerine, and Ash hybrid inks, along with India Black. If you have the (now extinct) Peridot hybrid ink pad in your stash, it's a great match, too!
Shopping opens today for the entire Mariachi collection.
Members, simply adjust your subscription if you'd like to add kits or other add-ons to your next shipment. Not a member? If you join today, your first kit (Mariachi) will ship starting Tuesday. We'd love to welcome you to our creative family.
Let's party!
Tricia
P.S. If you have questions about how to update your shipment, please don't hesitate to reach out for help. Call 888-634-9100 or email info@clubscrap.com.
---
*Not a member? Use the following direct links to JOIN us! Your first shipment will be January's Mariachi collection.
*If you're already a member but want to add a page kit or card kit to your subscription, please adjust your existing membership. (Using the "add to cart" links below will create a second shipment going to the same address.)
Click the shopping links below for one-time purchases, and shop all available items in the store.
Mariachi Stamps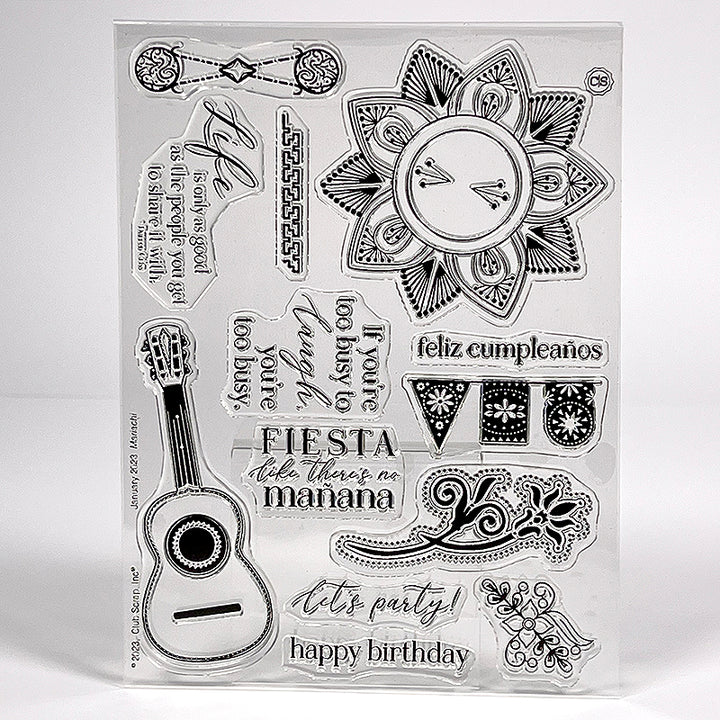 $19.25
Our premium clear photopolymer stamps are ready to use; no prep required. Stamp sheet measures 6x8" and includes 13 individual images and phrases. Deeply-etched for high quality impressions Clear substrate for easy positioning and accurate stamping Non-yellowing and durable Apply… Read More