Create a unique scrapbook page featuring the gorgeous Coastal Lighthouse print. The print is layered to give it a 3-dimensional appearance and was inspired by a wooden wall hanging on Pinterest. I was able to recreate the look with items from the Coastal collection.
Layered Lighthouse Print
Gather two Coastal Lighthouse Prints.
Begin by tearing one print using the landscape as a guide.
Remove the lighthouse with scissors.
Continue tearing sections to create layers. I decided to make the horizon straight instead of torn, so I trimmed a straight edge with a paper trimmer.
Add a single layer of foam adhesive to the back of each piece. Keep track of the order in which each piece will be adhered to the second Lighthouse print background.
Remove the backing from the lighthouse and horizon strip. Position each piece carefully, using the artwork as a guide. Adhere on top of the second Lighthouse print.
Remove the adhesive backing from the next section of artwork. Add a second layer of foam adhesive over the first, creating a double layer.
Remove the backing from the second layer and adhere next to the first layer of artwork.
Gradually build up the layers with more foam adhesive on the back of each strip of paper. The last layer has five stacked strips of foam adhesive.
Attach the last piece to the front of the page.
Trim the left over "sky" portion of the torn print into two 4.25x6.25" photo mats.
Flip the photo mats to the plain white side for use on the page.
Add a sentiment cutapart and other embellishments to the bottom of the layout.
Let's take a look at the finished page.
I hope this post inspires you to think outside the box when making pages. It's always fun to look at our papers and supplies in a whole new way.
---
We love seeing your artwork. Join us on the Club Scrap Chat Group on Facebook to share your creations. Not a member of the group yet? Simply answer a few simple questions and we will get your request accepted in no time.
Coastal Page Cutaparts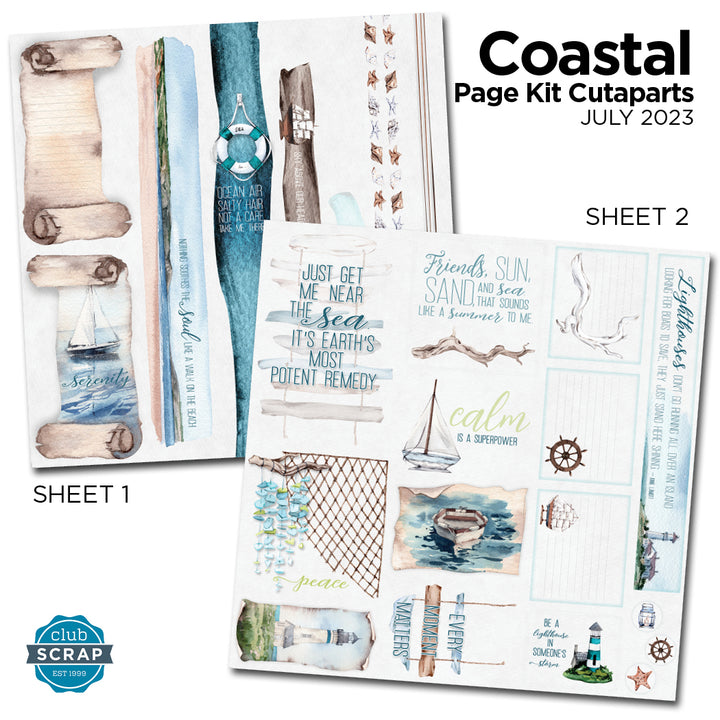 $3.30
Easy-to-use, non-bulky embellishments for your scrapbook pages, cards and other projects. Beautiful artwork and meaningful phrases are printed onto cover stock. Simply trim for a lovely assortment of decorative elements. Includes: (2) 12x12 Printed Cutapart Sheets: 1 each of 2… Read More
Coastal Ship's Wheel Woodcuts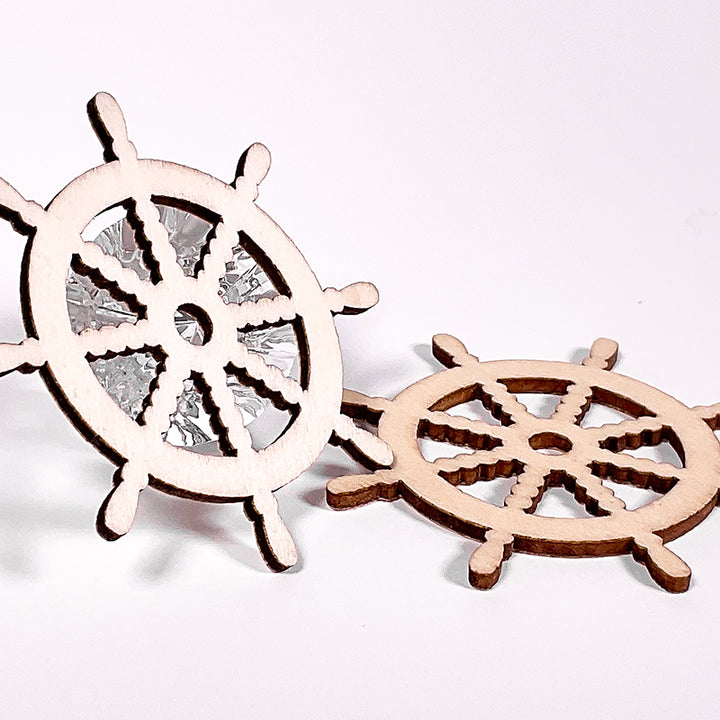 $1.50
Package of two ship's wheel-shaped laser cut wood elements. Each measures approximately 2-3/8" in diameter.… Read More