Take a visual tour of my finished Coastal Photo Drop Box featuring photos of a family vacation to Scituate, Massachusetts. We were invited to attend a wedding in July and decided to rent a beach house for the whole week. This project was the perfect way to preserve the many photos from the trip.
Tricia taught this amazing workshop during the August VOLUME Craft Along Event. She sent me the assembled box and inserts, along with the Cutparts and contents of Pocket D. Sit back and enjoy a tour of the finished project.
---
The pages are designed to hold full size 4x6 photos. Trim and mat a border strip to accent a smaller photo.
Crop a photo to fit neatly beneath a journaling block.
Crop two photos to fit a single photo mat.
Decorate one book insert with cutapart artwork and a gorgeous nautilus charm.
Trim text from the long border strip and adhere above a cropped photo. Make sure the strip is adhered between the score lines so that the book closes properly.
Crop photos that have lots of small details to sharpen the focus of the subject matter, and adhere to the stacked square mats.
Tie a knot in a piece of ribbon and wrap around the top of a journaling block. Secure on the back with clear tape. This is what the booklet insert looks like with the flap closed...
...and with the flap opened.
Fussy cut the scroll image and add it to a page.
Trim a border strip to span a pair of open pages. Leave space for the score line to allow the pages to open and close freely and to prevent the paper from buckling.
Decorate the front of an insert with a photo. Embellish with a border strip and cutapart artwork.
Crop three photos to fit the smaller mats. Border strip artwork accents the portrait of Shannon.
Crop a photo and cutapart to fit inside the larger photo mat.
Decorate a matted journaling block with the bezel and glass dome featuring the lantern image. Tie with twine and wrap around the back of the mat, securing the ends with tape.
The completed books fit neatly inside the box. Embellish the back of the box with a cutapart and shell button tied with twine.
---
Have you made a photo drop box yet? We invite you to share your finished projects with us on the Club Scrap Chat Group on Facebook. Not a member of the group yet? Simply answer a few questions and we will get your request accepted in no time.

Happy crafting!
Photo Drop Box Craft Along Kit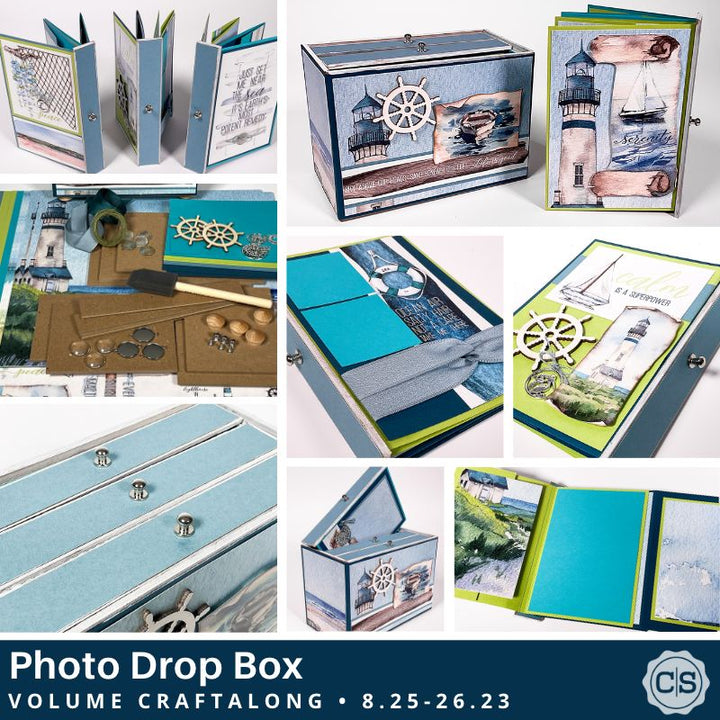 $39.95
We invite you to join us on the VOLUME Facebook Group or YouTube Channel on August 25-26 for a Photo Drop Box workshop. During the presentation, we'll learn how to make a clever and interactive photo storage solution featuring Club… Read More