Earlier this year, Tricia taught the Easy Eight Album as an online virtual workshop. The original project and instructions featured Club Scrap's Under the Sea collection. I'm continually impressed by the amazing potential of this handmade scrapbook. For a fun twist, pair the Easy Eight Album Components with a Whimsy Page Kit to create a colorful and cheerful album, perfect for gifting.
Whimsy Easy Eight Album
To replicate my project, begin by substituting Whimsy papers for Under the Sea as noted in the instructions. (Exact paper substitutions are listed at the end of this post.) Next, trim and sort the papers. Once all of the trimming is complete, use Tricia's Under the Sea completed samples as inspiration to finish your inside pages.
Album Assembly
I chose the Orange Duplex and Blue Duplex to create the outside covers. Simply wrap the trimmed pieces around the pre-cut book board provided in the components kit, insert the page protectors, and use the three rings to bind the album.
Decorate the front cover with Cutaparts, ribbon, and a flower appliqué.
The Black Print on the inside cover is a fun surprise when the book is opened.
When creating the inside pages, it's important to remember the Whimsy Cutaparts are different from the Under the Sea version. During the page assembly process, feel free to rearrange some of the trimmed elements, using them in different locations. Don't be afraid to mix things up when trimming select 3.5x12" pieces (left from trimming 8.5x11 base papers).
Layout 1 & 2
Layout 3 & 4
Layout 5 & 6
Layout 7 & 8
If you like this project, but prefer to follow directions exactly, the Easy Eight Album Class Along Kit (featuring the Under the Sea collection) is still available in very limited quantities. However, if you're like me, and are open to a bit of customization, you can recreate this awesome handmade album using any CS® Page Kit. The size of the album makes it totally portable, and perfect for documenting a special occasion or vacation.
Happy crafting!
Paper Substitutions
(2) Aqua = (2) Blue/Green Duplex
(2) Sea Green = (2) Orange/Pink Duplex
Whale Print = Black Print
Octopus Print = Black Print
Octopus Print = Quad Print
Whale Print = Quad Print
Deep Blue = Blue/Green Duplex
Deep Blue = Blue/Green Duplex
Aqua Metallic = Orange/Pink Duplex
Aqua Metallic = Orange/Pink Duplex
Additional Tips
The Whimsy Cutaparts are different from Under the Sea. Regardless of which page kit you choose to make your album, be sure to use the printed artwork on the Cutaparts as your guide.
In the case of #9 and #10, I cut an 8.5x11 from each 12x12, then trimmed the leftover 3.5x12" pieces differently than the instructions to better accommodate the artwork and Cutaparts.
I did not utilize the bonus first and last pages.
Whimsy Page Kit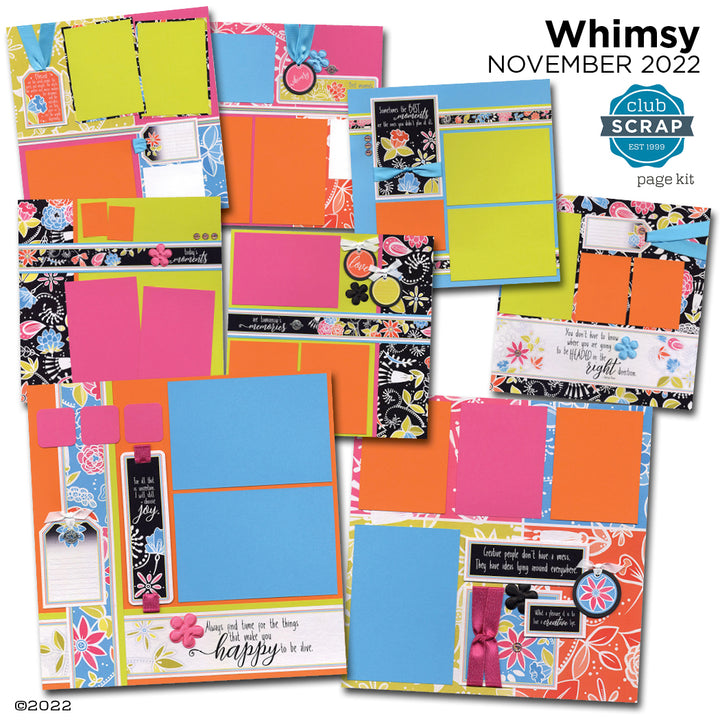 $32.95
Kit includes all of the supplies needed to complete eight fully-embellished 12x12 pages. Just add a trimmer, scissors and adhesive. Includes: (4) 12x12 Prints: 2 ea. Black Print, Quad Print (4) 12x12 Orange/Pink Duplex Plains (4) 12x12 Green/Blue Duplex Plains… Read More
Easy Eight Album Components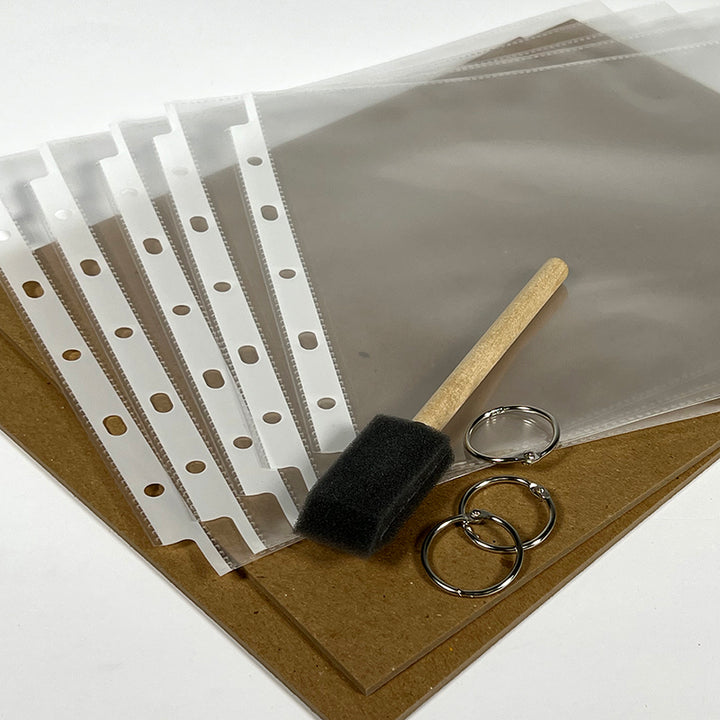 $5.09
Pair the Easy Eight Album Components with any Club Scrap Page Kit to make a handmade scrapbook, ready for photos. (A few additional materials and tools will be required.) The album features an 11x8.5" landscape design, and the completed project… Read More