Even in the midst of preparing for the May monthly collection, we also managed to create a special release page kit: Shoreline Remix. Last summer's Shoreline collection was so popular, it sold out in less than 30 days. Now's your chance to get your hands on the latest version of this sunny, summery collection.
Members: This is a special release collection and will not ship automatically. If you'd like, you can choose "ship with my next kit" at checkout, and we'll be sure to include it in your next box.

Shoreline Remix Page Kit
Here's a quick tour of what you'll find in the box!
---
Check out the eight pages you'll make if you follow our video workshop and printable instructions.
Layouts 1 & 2
I love making "mini collages" from ribbon, goodies and cutaparts. Adorn the lower right side of the spread with the brown cotton ribbon stretched across the entire page. Place the matted wood banner tag onto a trimmed Kraft scrap and layer onto the ribbon. Adhere the wave charm directly onto the cutapart with Bookbinding Glue. The torn edges of the printed paper add even more interest to the collage.
Layouts 3 & 4
After topping with jute, nest the wood banner tag onto a scrap to teal and trim a "v" into one short edge. "Hang" the die cut anchor onto one of the circles on the border strip and top with the tag.
Layouts 5 & 6
This layout offers a snapshot of all three ribbon styles included in your kit. Trim a 2" length of brown cotton, fold in half, and staple to the top of the journaling prompt. Tie a small jute bow onto the wood banner tag. Punch a slot into the top of the cutapart sentiment and loop with the 7/8" teal grosgrain.
Layouts 7 & 8
Nest the cutapart tag onto a 4.25x6.25" Kraft mat, and punch a hole in the top as indicated by the artwork. Add a loop of jute and glue the knot in place on the tag. The space above the sentiment is designed to fit the die cut anchor perfectly. If you happen to have a lot of photos on hand, simply add a photo to the space.
Stock up on extra prints and cutaparts sold individually while supplies remain in stock!
---
If you're the ultimate land lubber and you don't see yourself at the shore anytime soon, it's all good. This is a special release and it won't land on your doorstep unless requested. Members, you can order up your Shoreline Remix and simply choose "ship with my next kit" when placing your order. We'll add this beauty to your next monthly box!
Come sail away!
Tricia
Shoreline Remix Page Kit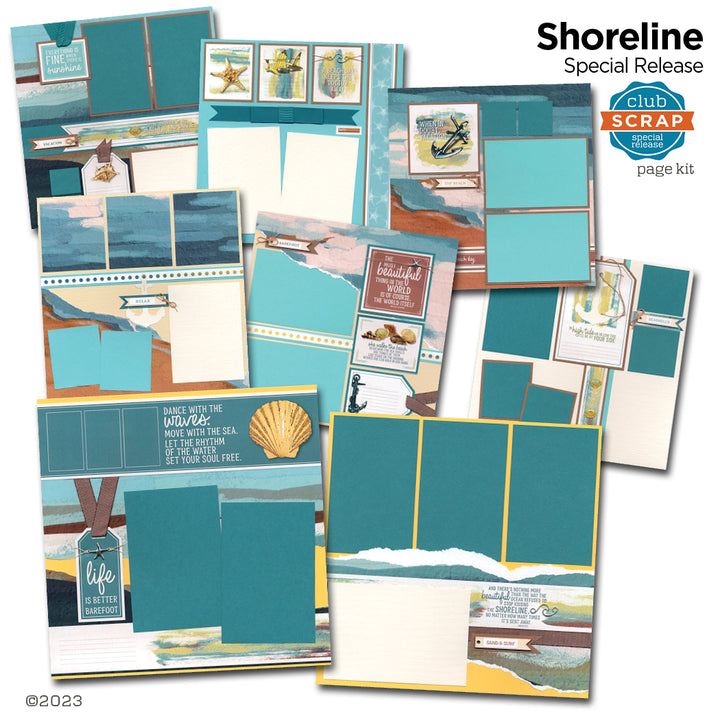 $32.95
Kit includes all of the supplies needed to complete eight fully-embellished 12x12 scrapbook pages. Just add a trimmer, scissors and adhesive. Includes: (4) 12x12 Prints: 2 ea. Beach Print, Wave Print (2) 12x12 Aqua Plains (2) 12x12 Ivory Linen Plains… Read More
Shoreline Remix Page Cutaparts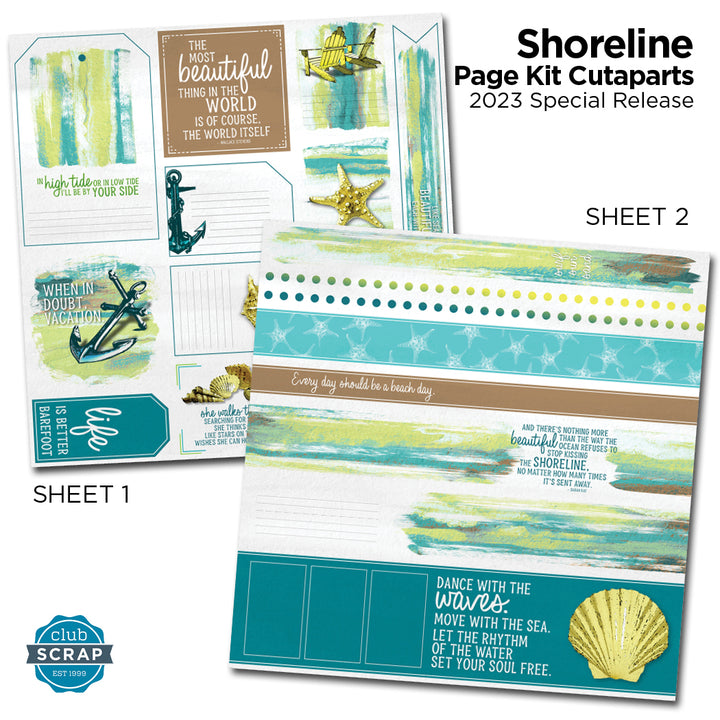 $3.30
Easy-to-use, non-bulky embellishments for your scrapbook pages, cards and other projects. Beautiful artwork and meaningful phrases are printed onto cover stock. Simply trim for a lovely assortment of decorative elements. Includes: (2) 12x12 Printed Cutapart Sheets: 1 each of 2… Read More