How can it be May already? I recently finished the layouts from the Typeset Page Kit, and they're more versatile than you might think! Transforming the kit into eight pages is as easy as ABC with Tricia guiding the way!
(Scroll to the bottom of the post for a closer look at the layouts featuring the Father's Day Cutaparts.)
Typeset Page Kit
Even though each Club Scrap Page Kit creates eight coordinating pages, it's not necessary to scrap them for a single occasion or event. This month I scrapped four pages with personal photos, and the other four with school pictures of Kristin's children.
Layout 1 & 2
I just love the sentiments featured on the Typeset Page Kit Cutparts. If you take time to read them, I think you'll discover just how versatile they are.
For example, my brother-in-law recently took up stand-up comedy as a new hobby. When visiting him in Arizona, we actually had the chance to see his act during a local competition. (He took third place. Yay, Mark!)
Don't be afraid to get creative with your cropping. Due to a verticalitis epidemic, I used the "crop two vertical photos to fit a single horizontal mat" trick - often.
Layout 3 & 4
I know a lot of folks view this as a "masculine" kit, especially when compared to the April Magnolia collection. As usual, I'm going to encourage you to "think outside the box" and use color as your guide when matching photos.
My brothers-in-law treated me to a delicious brunch during my Arizona visit, including mimosas with fresh-squeezed juice from the orange tree in their yard. Afterwards, we went to a wine-tasting event. It was a perfect day, definitely worth documenting!
Whether you want to squeeze in more photos, or you are dealing with a case of "verticalitis", cropping two photos to fit a single mat is always a great option. (The 8x8 grid ruler is an absolute MUST HAVE for photo cropping!)
Layout 5 & 6
My co-worker Kristin is the person who brilliantly suggested using the Typeset pages for children's school photos. The primary colors, paired with the letters in the artwork, make it a match made in heaven.
I think you'll agree these pictures look amazing on these pages! Even the sentiments tie into the occasion perfectly. (I left the journaling blank so Kristin can jot down the "who, what, where, when" later on.)
Layout 7 & 8
This two-page spread features first-day-of-school photos of Kristin's adorable children. They grow up so fast!
Double the fun! In lieu of a single 4x6 photo, trim two vertical photos to fit the 4.25x6.25" space.
Typeset Father's Day Cutaparts
Looking for pages to celebrate the male role models in your life? The Typeset Father's Day Page Kit Cutaparts feature the same cutting map (therefore the same cutting instructions) as the Cutaparts included in the Page Kit. Substitute one for one as desired - on one set of pages or all eight - the choice is yours.
Layout 1 & 2
Layout 3 & 4
I had just a few moments left before leaving for Mega Meet to add photos to two sets of the Father's Day pages.
I just love these precious photos of my son with his son. It's so much fun being Nana!

The vertical photo monster strikes again! The solution? Rotate the right page 90 degrees so the mats switch from horizontal to vertical orientation - which requires just a slight tweak to the arrangement of the embellishments.
Layout 5 & 6
After realizing we didn't include anything about grandmothers in the Magnolia Mother's Day Cutaparts, we couldn't resist adding something for the grandpas in the Father's Day set. The sentiment is perfect for these photos of my husband and grandson.
Layout 7 & 8
Once the Novi expo is behind us, I hope to finish up the remaining Father's Day pages.
---
I look forward to seeing what memories you'll scrap on the Typeset collection. Be sure to share your work with our staffers and your fellow Club Scrap enthusiasts on our Chat group on Facebook!
Typeset Page Kit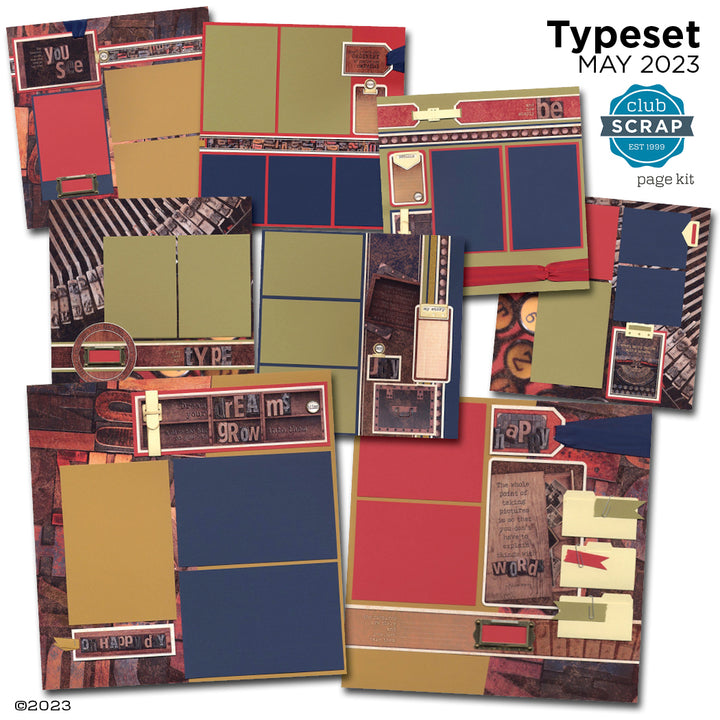 $32.95
Kit includes all of the supplies needed to complete eight fully-embellished 12x12 scrapbook pages. Just add a trimmer, scissors and adhesive. Includes: (4) 12x12 Prints (8) 12x12 Plains (2) 12.25x12.25 Printed Cutaparts (1) 8.5x11 Mini File Die Cut (12) Photo… Read More
Typeset Father's Day Cutaparts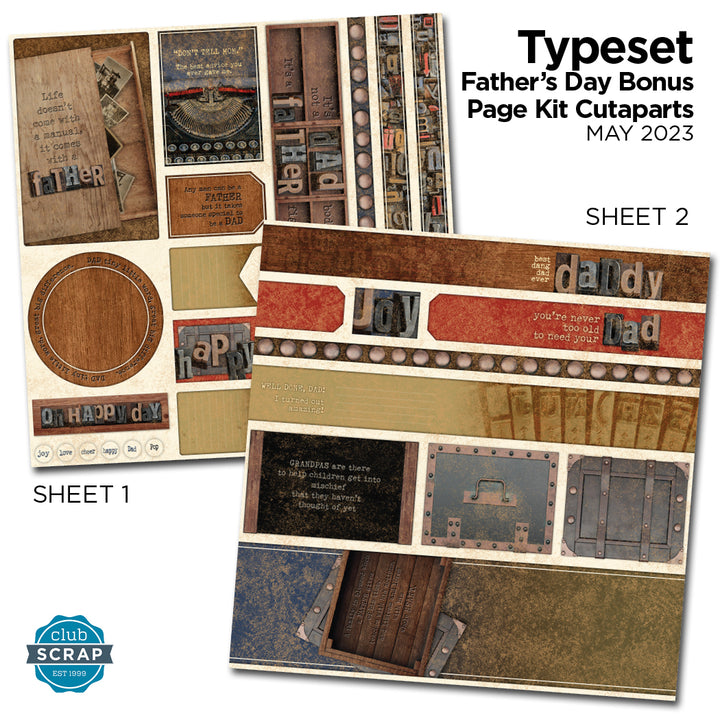 $3.30
Easy-to-use, non-bulky embellishments for your scrapbook pages, cards and other projects. Beautiful artwork and meaningful phrases are printed onto cover stock. Simply trim for a lovely assortment of decorative elements. Follow the Typeset Page Cutaparts trimming instructions and substitute on… Read More