Members: Have you downloaded your Roost Bonus Page Formula yet? If you're not using this super stash-busting membership benefit, I encourage you to start now!
Not sure where to find it? Check your inbox for your member-exclusive email with important links to the bonus formula, instructions, video tutorials and more. It is sent to active members* on shipping day and looks like this:
*An active member is defined as one who paid for and received the current monthly kit.
Not a club member? No worries. Visit the online store to browse our entire selection of downloadable Page Formulas. (Card makers, we've got a large selection of Card Formulas, too!)
Roost Bonus Formula Sketch
The Roost Bonus Formula creates a two-page spread from just five sheets of paper. Creating a layout is simple when you follow the steps below:
Gather five coordinating papers (a mix of prints and plains).
Follow the cutting diagrams and instructions on the printable document.
Dry fit the trimmed pieces onto the base papers, using the sketch as your guide.
Once you are satisfied with the arrangement, assemble the layout using your favorite adhesive.
Select photos and crop to fit the mats.
Roost Bonus Layout - Karen
To replicate my pages, use the following paper assignments from the Roost collection: Brown (Paper A), Brick (Paper B), one Taupe Metallic (Paper C), and two Card Kit Print (Paper D).
The rustic floral elements on the Roost print pair beautifully with black and white photos from my son's wedding.
Shift the 2x2 Brick mats a bit to the right. Center a Legacy silk flower onto the top mat. Crop a vertical photo to fit the space below. (Our handy 8x8 grid ruler is indispensable for measuring and cropping photos!) Finish with a wood word (Crewel & Unusual 02.16).
Use a needle-tipped applicator filled with bookbinding glue to adhere the large wood word (Adirondacks 05.17) at the top of the page. (You'll need to shift placement of the 3x2 mat to accommodate it.) Trim the Taupe Metallic strip into a banner shape; add journaling. Adhere a trio of silk flowers to the 2x2 Brick mats.
September Bonus Formula Layout - Tricia
To create a layout like Tricia's, gather the following papers: Brown (Paper A), Card Kit Print (Paper B), Brick (Paper C), and two Blue Plains (Paper D).
Tricia also chose to fill the open space between the 2x2 and 4x6 mats with a vertical photo. Tuck name tags from the event into the lower left corner of the page.
Journal directly onto the layout below the 2x2 squares.
Even though Tricia and I both incorporated many of the same papers in our layouts, I think you'll agree the finished pages look very different.
---
Have you scrapped the September Bonus Formula yet? Inspire others by sharing your work on the Club Scrap Chat Facebook group. Hope to "see" you there.
Happy scrapping!
Roost 12x12 Prints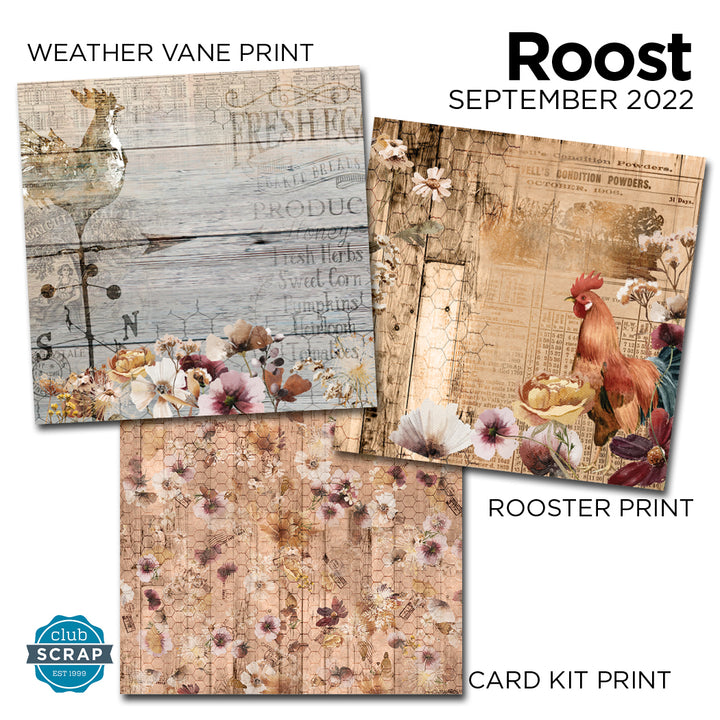 $1.30
12x12" premium papers, sold individually, by the sheet. … Read More