Create lots of visual impact by creating custom die cut words with alphabets to accent a sentiment on a pair handmade cards.
The idea to die cut letters from an alphabet set out of art orphans has been percolating in my crafty brain for some time now. I made a panel with the stamping on stencils technique and thought it would make really interesting die cut words.
Die Cutting Words
Card A
Die cut the letters B and E out of the stamped panel to create the word BEE. Keep the inside cuts from the letter B in place.
Add a light layer of India Ink onto a Fly A Kite Dk. Green panel over the Let It Bee Honeycomb Stencil with an Ink Applicator Brush.
Position and center the 3.75x5" die cut panel on the 4x5.25" Dk. Green stenciled panel.
Add two tiny dots of Bookbinding Glue dispensed from a Needle-tipped Applicator on the back of the letter B's inside cut pieces.
Insert the letter B back into the die cut area and press gently to ensure proper glue adhesion. Allow it to dry for a few seconds.
Carefully remove the letter B and set aside for use in the next panel.
Stamp the sentiment 'joyful' under the die cut word openings in India Ink.
Stamp and fussy cut the small bumblebee from a scrap of Ivory paper. Apply additional color with markers and highlights with a white gel pen.
Trim Foam Adhesive Circles to fit on the back of the bee and adhere next to the sentiment to create added dimension.
Let's take a look at completed Card A.
Card Bee (Ha, get it?!)
Gather supplies for the second card including the die cut word BEE set aside from Card A along with four of each letter die cut from a black panel.
Emboss a 3.5x4.75" Western Gold panel with the honeycomb stencil. Be sure to visit this post for details.
Apply Tangerine Ink directly from the pad to the raised areas of the paper.
Place a black letter B inside the die cut panel and add a thin line of Bookbinding Glue. (It's much easier to apply the glue this way and prevents the letter from moving during glue application.)
Lay a second letter over the first and repeat this process with the remaining pieces until the stack is four letters thick.
Adhere the art orphan letters over all to complete the stacks. Don't you just love that dimension!?
Let's take a look at finished Card Bee.
Bee Joyful and Bee Well. HapBee Crafting!
Julie
Let It Bee Stamps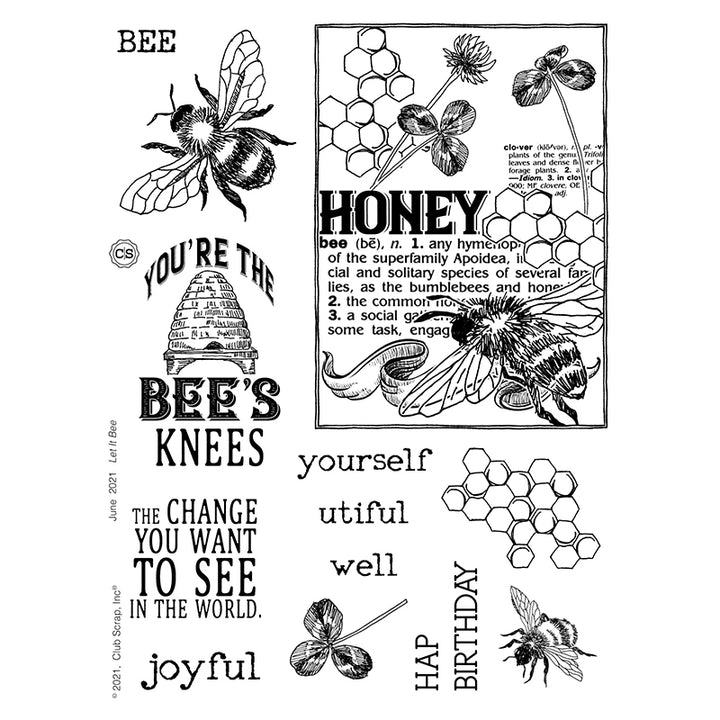 $19.25
Our premium clear photopolymer stamps are ready to use; no prep required. Stamp sheet measures 6x8" and includes fourteen individual images and phrases. Deeply-etched for high quality impressions Clear substrate for easy positioning and accurate stamping Non-yellowing and durable Apply… Read More
CS Hybrid Ink Pads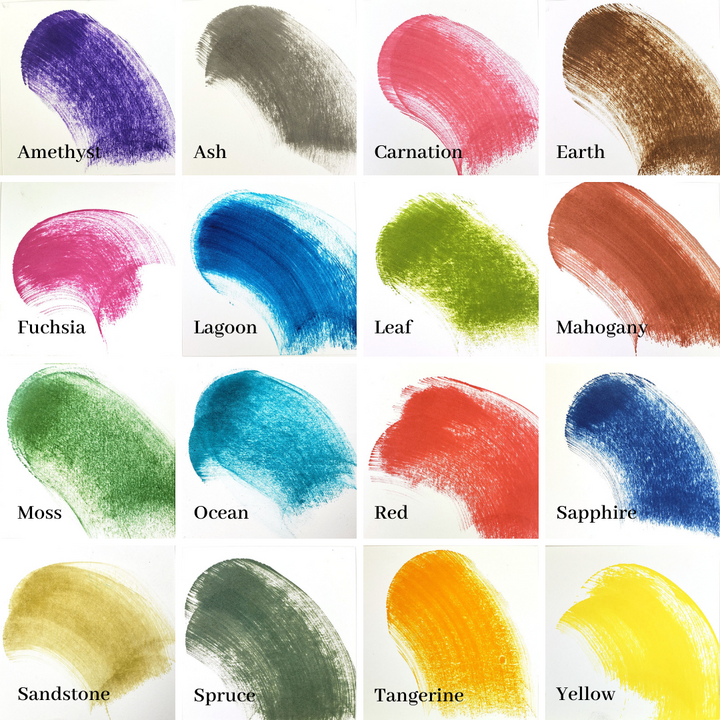 $6.35
Exclusively Club Scrap®, this hybrid craft ink combines the most exceptional ingredients of both pigments and dyes for a fine, crisp, fast-drying image! Don't forget to stock up on re-inkers!… Read More