The Flourish Page Kit is stunning! It's a natural beauty, featuring an earthy color palette and gorgeous foliage. The art and sentiments are perfect for celebrating all of life's special moments. Are you ready to see the finished layouts before and after photos and journaling? Read on!
Flourish Page Kit
Even though each Club Scrap Page Kit creates eight coordinating pages, it's rare for all of them to be used for a single occasion or event. The page pairings could easily end up in different scrapbooks. Therefore, when choosing photos, try to view each two-page spread independently.
Layout 1 & 2
Tricia and I both finished our Flourish layouts in record time this month, so I thought it would be inspiring (and educational) to see a "side by side" comparison of our pages.
Karen
My son's girlfriend, Emma Jo, celebrated her 20th birthday in October. It was grand affair including many of her family members and friends. Her beautiful green velvet dress served as inspiration to pair these photos with the Flourish Page Kit. The sentiments also seemed quite appropriate for the festivities. (See remaining birthday photos on pages 5 & 6 below.)
Tricia
Tricia opted to get "outdoorsy" with photos from a trip to Wyoming. In lieu of a single vertical photo, crop two horizontal photos to fit the Dk. Green mat on the left page.
Layout 3 & 4
Karen
Last fall my son and daughter-in-law scheduled a maternity photo shoot with their favorite photographer, Nora Mac Photography. Once I saw the colors in the photos, I knew they'd coordinate perfectly with the Flourish color palette. (See remaining maternity photos on pages 7 & 8 below.)
Tricia
Have an extra photo that helps tell the story? Crop a horizontal photo to fit the open space to the left of the tag trio. No mat needed! Not sure what size photo will fit? Club Scrap grid rulers are essential for this task!
Layout 5 & 6
Karen
Most of the photos from Emma Jo's celebration were taken vertically. Therefore, I treated the four squares on the left side as two "columns" - trimming two vertical photos to fit across two mats each.
Tricia
Gorgeous photos from a trip to Yosemite grace this two-page spread.
Layout 7 & 8
Karen
The remaining maternity photos are featured on this two-page spread. I just love how well the colors coordinate - it's like they were made for each other! (Photos by Nora Mac Photography.)
Tricia
You can never go wrong with pics of an adorable little one. Two smaller vertical photos fit the Dk. Green mat at the top of page 7 and the middle of page 8. An extra un-matted photo tucks perfectly into the upper right corner.
---
Wow, that's SIXTEEN pages of pure inspiration! We look forward to seeing what memories you'll choose to scrap on the Flourish collection. Be sure to share your finished projects on the Club Scrap Chat group on Facebook. Until next time, happy scrapping!
Flourish Page Kit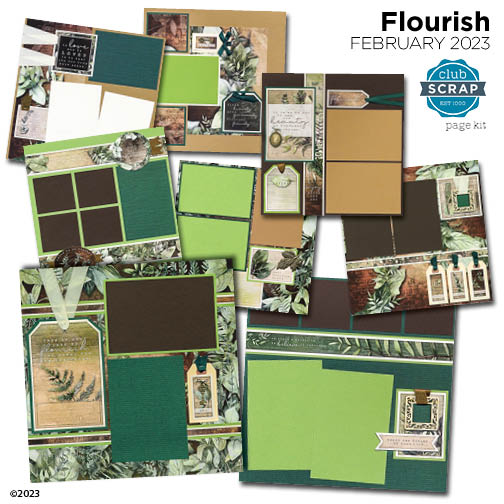 $32.95
Kit includes all of the supplies needed to complete eight fully-embellished 12x12 scrapbook pages. Just add a trimmer, scissors and adhesive. Includes: (4) 12x12 Prints: 2 ea. Greenery Print, Wreath Print (2) 12x12 Brown Plains (2) 12x12 Dk. Green Plains… Read More
Grid Ruler Value Pack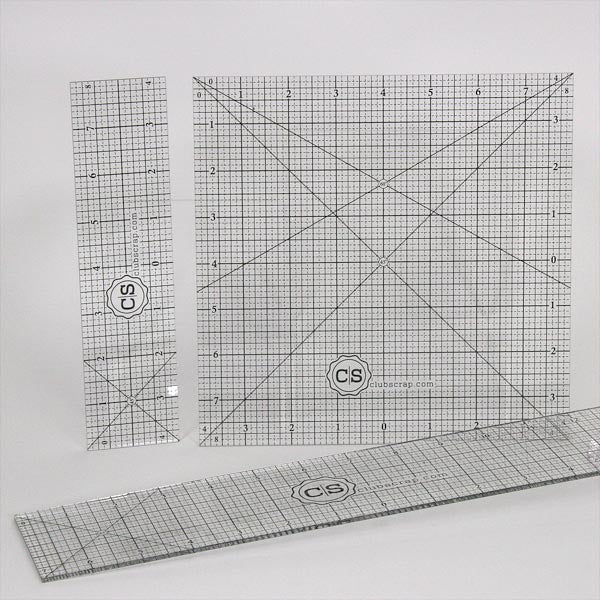 $34.99
Get the best value for all 3 of our versatile rulers. You'll get perfect measurements every time; ideal for all your craft projects. Our rulers feature a handy 1/8" grid, helping you make perfectly aligned cuts every time. Comes with… Read More