Thank you for joining us on the VOLUME Facebook Group or YouTube Channel for a unique handmade project. During the presentation, we learned how to make a beautiful Photo Twistabout and four mini albums featuring Club Scrap's Meadow Page kit.
Click on the bold text below to purchase and download the project instructions.
If you're not familiar with the project...it's the number one most-pinned project idea on Club Scrap's Pinterest page! Take a moment to check out the Craft Along Kit in this video!
Each kit contains the supplies needed to make a 5.25x6" spinning storage box with a handy drawer. The box serves as clever storage for four 4.25x5.5" mini albums and includes a sliding tray for extra photos or another mini book. (A few additional materials and tools will be required.)
Each mini album features a u-hinge binding with interactive pages, offering plenty of space for photos from any special occasion.
The VOLUME Craft Along Kit is available in limited quantities and includes:
Meadow Items: (4) 12x12 Printed Papers, (8) 12x12 Plain Papers, (2) 12.5x12.5 Printed Cutaparts, (12) Photo Mats, (3) Mini Tassels, (3) Jumbo Tags, (6) Gold Hangers and Mini Brads, (1) Rushes Stencil, 3 pc. Ribbons
(1) Steel Swivel
(1) Silver Knob
(4) Silver Ring Pulls
(2) Mini Silver Drawer Knobs
(2) 12x12 Folding Board
(6) Pre-cut Book Board Elements
(1) Needle-Tipped Glue Applicator
Printed Instructions
More component kits and hardware are also sold separately.
Additional Tools & Supplies
To participate in the virtual workshop, we recommend gathering the following:
CS® Bookbinding Glue
12" Paper Trimmer
3x14" Grid Ruler
Accordion Pocket File (optional)
Bone Folder
Paper Piercing Tool and Cork Board
ScorPal
Pencil
Scissors
Adhesive and Tape
And, there will be HOMEWORK! (School is in session, 'ya know.) A link to the homework video will be provided immediately with purchase of the project kit or components.
We suggest viewing our full presentation prior to doing the final assembly of the Twistabout. Watch again while working at your own pace to ensure success. We promise you'll learn lots of helpful tips to enhance your arsenal of crafty skills!
Tricia
---
If you plan to use supplies from your stash, you'll need to gather the following:
CS® Page Kit of your choice
Photo Twistabout Components
CS® Bookbinding Glue
12" Paper Trimmer
3x14" Grid Ruler
Accordion Pocket File (optional)
Bone Folder
Paper Piercing Tool and Cork Board
ScorPal
Pencil
Scissors
Adhesive and Tape
Photo Twistabout Craft Along Kit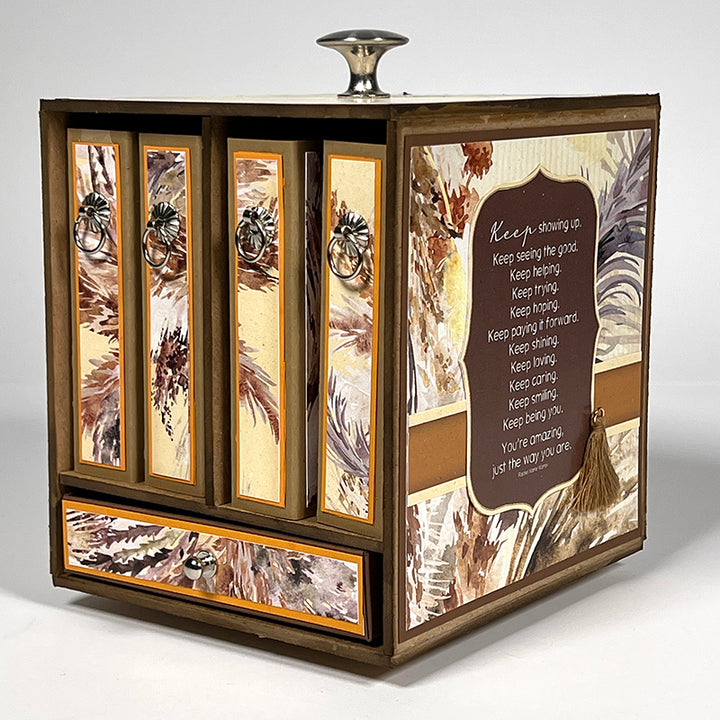 $37.46
Learn how to make a beautiful Photo Twistabout and four mini albums featuring Club Scrap's Meadow Page kit. The Craft Along Kit includes: Meadow Items: (4) 12x12 Printed Papers, (8) 12x12 Plain Papers, (2) 12.5x12.5 Printed Cutaparts, (12) Photo Mats,… Read More