The Ever After Remix has been in the works for several months, and the whole project began after a request for a "Sympathy" card kit.
Due to the beauty and popularity of the original collections from 2021, we decided to move forward with a direct re-print of the Ever After page kit and card kit along with the new sympathy variation. We replicated the papers, swapped out the goodies, and kept the page and card construction consistent with the previous release.
Members, this is a special release collection and will not ship automatically. If you'd like, you can choose "ship with my next kit" at checkout, and we'll be sure to include it in your next box.
Before we get started, take a look at this overview of the new collection and how it works in this brief video.
Ever After Remix Page Kit
We sourced a brand new line-up of goodies for this collection, and I adore our findings! We've got tulle rosettes, silver charms, marquis-shaped tags, iridescent gems, a woodcut frame, satin ribbon, metallic ribbon, and jute. Of note, the papers, prints and goodies are identical in all three kits. The cutaparts will be different.
The eight pages in this set have the same assembly map as the original. This kit is going work beautifully for other adapted projects including the Memento Holder, Drop Spine Box, Flexi Planner, etc.
This collection is unique from what we typically offer. You'll receive (3) 12x12 printed cutaparts, (16) sheets of 12x12 paper, and (18) envelopes. Yes . . . you will make eighteen cards with this kit! And yes, that's a lot of cards.
The nice thing is that this card formula translates beautifully to other special edition page kits that contain the same number of papers. Make more sets of 18 cards like this. You'll impress yourself and your friends!
Ever After Remix Card Kit
In case you missed the big event last time, pick up this stunning card kit. You'll create a series of 18 cards including greetings perfect for weddings and anniversaries, as well.
I make every attempt to send anniversary cards -- years of marriage are worthy of celebration and are often forgotten by others. When I'm invited to a wedding, I add it to my calendar as a recurring event so I remember to celebrate the couple in the years to come.
And don't forget . . . we have a gorgeous sheet of clear photopolymer coordinating stamps to match!
Express yourself beautifully with this entire collection. Whether it be a joyous or sad occasion, we've got the kit for you made with love in Wisconsin.
Tricia
Ever After Stamps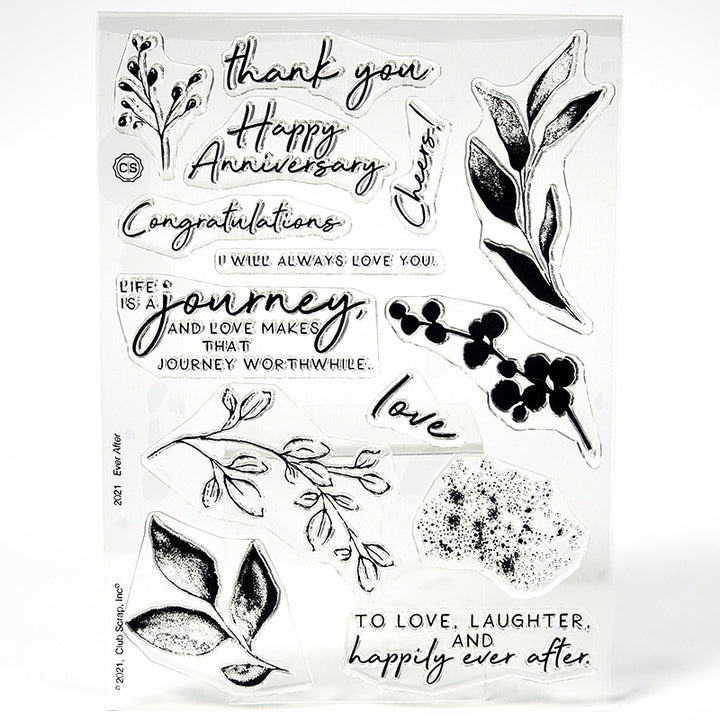 $19.25
Our premium clear photopolymer stamps are ready to use; no prep required. Stamp sheet measures 6x8" and includes 14 individual images and phrases. - Deeply-etched for high quality impressions. - Clear substrate for easy positioning and accurate stamping. - Non-yellowing… Read More