The Whimsy Page kit is the colorful cure for the early-winter blahs. With its vibrant and cheerful color palette and lighthearted artwork, you can't help but smile. Are you ready to take a closer look at the finished pages? Read on to see the finished pages below - before and after photos and journaling.
Whimsy Page Kit
Layout 1 & 2
Don't you just love this two-page spread? The colors and whimsical artwork make me so happy!
Oftentimes, I'll make subtle changes to Tricia's designs to better suit my photos. However, in this case, the formatting of this two page spread was perfection. Other than skipping the use of a corner rounder, I utilized the layout "as is".
Layout 3 & 4
Since there is plenty of space available for a full-sized photo in the upper left corner, replace the two smaller orange rectangles with a mat pulled from the Whimsy Pack of Panels.
Layout 5 & 6
It's like this kit was MADE for scrapping our vacation to Mexico earlier this year. Do you ever feel that way? My friend Rita's swimsuit coordinates perfectly with the Whimsy printed paper.
Layout 7 & 8
I love the sentiment on the final layout. It's so true and it inspired me to use the pages to scrap photos from a friend's impromptu birthday dinner celebration. On the right side, crop a single photo to span across the space created by the two orange mini mats.
---
I have so many more photos that would fit this theme and color palette - my head is spinning with ideas. Perhaps a handmade book or a Whimsy Easy Eight Album is in my future?
What will YOU scrap on the November Page Kit? Share your finished layouts on the Club Scrap Chat Facebook group...we'd love to see what you're up to!
Whimsy Page Kit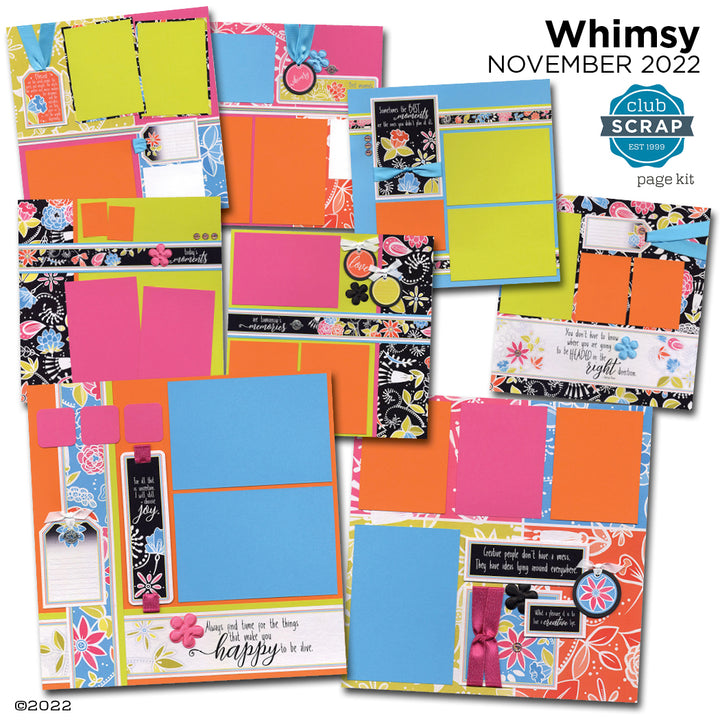 $32.95
Kit includes all of the supplies needed to complete eight fully-embellished 12x12 pages. Just add a trimmer, scissors and adhesive. Includes: (4) 12x12 Prints: 2 ea. Black Print, Quad Print (4) 12x12 Orange/Pink Duplex Plains (4) 12x12 Green/Blue Duplex Plains… Read More