Happy March! I just finished assembling the Surf Shop Page Kit and it's so bright and sunny - the perfect balm for this gray, dreary winter we're still having in Wisconsin. The art and sentiments are perfect for documenting a variety of different occasions. Are you ready to see the finished layouts before and after photos and journaling?
Surf Shop Page Kit
Each Club Scrap Page Kit creates eight coordinating pages, however, I rarely use all eight to scrap a single occasion or event. The page pairs could easily end up in different scrapbooks, or even assembled differently from the instructions. Therefore, when choosing photos, I try to view each two-page spread independently.
Layout 1 & 2
The Surf Shop color palette and artwork is so bright and sunny - just looking at the pages make me happy! The wave die cut creates dimension. (Be sure to watch Tricia's video tutorial for valuable assembly tips.)
Waves aren't only found in the ocean - these photos taken off the coast of Lake Michigan fit the theme as well. The greens, blues, and yellows in the photos look great with the Surf Shop color palette.
In lieu of a small photo, stamp a sentiment (Under the Sea 03.22) with India ink onto the cutapart.
The fussy-cut surf board images add even more dimension!
Layout 3 & 4
I love the wooden surf board embellishment - what a fun dimensional element for these pages!
This layout was a perfect fit for photos from our trip to Huatulco almost exactly one year ago.
Add a swipe of Earth Hybrid ink on the wooden surf board for a vintage touch.
Need more room for photos? Adhere an extra photo over the sentiment cutapart.
Layout 5 & 6
I love everything about this layout - so bright and cheerful!
The aqua and blue colors in this two-page spread beautifully complement photos of the pool, sea, and sky.
Ink the surface and edges of the wooden surf board with Earth Hybrid ink.
Layout 7 & 8
Another section of the Surf Shop die cut adds interest this layout.
Due to a case of "verticalitis", I rearranged the mats on the right page to have a vertical orientation.
A bit of craft knife "magic" brings the surf board image into the foreground. An extra horizontal photo tucks into the lower left corner - no mat needed!
---
I look forward to seeing what memories others choose to scrap on the Surf Shop collection. Be sure to share your finished projects on the Club Scrap Chat group on Facebook. Until next time, happy scrapping!
Surf Shop Page Kit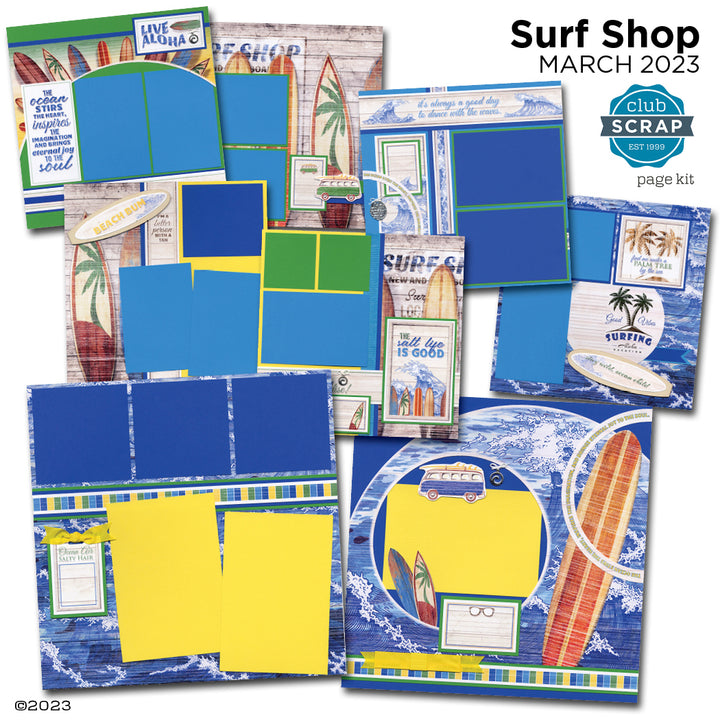 $24.95
Kit includes all of the supplies needed to complete eight fully-embellished 12x12 scrapbook pages. Just add a trimmer, scissors and adhesive. Includes: (4) 12x12 Prints: 2 ea. Board Print, Wave Print (2) 12x12 Aqua Plains (2) 12x12 Blue Plains (2)… Read More