How can it be October already? I just finished assembling the Meadow Page Kit, and it's stunning. The layouts are perfect for autumn photos here in Wisconsin, but the versatile color palette matches nearly any occasion. Are you ready to see the finished layouts before and after photos and journaling? Read on!
Meadow Page Kit
Even though each Club Scrap Page Kit creates eight coordinating pages, it's rare that I use all of them for a single occasion or event. The page pairings could easily end up in different scrapbooks, or even arranged differently from the instructions. Therefore, when choosing photos, I try to view each two-page spread independently.
Layout 1 & 2
Page one features a background created using the Meadow Rushes stencil with White Pigment ink. Applied with an ink applicator brush, the stenciled artwork features a soft finish that contrasts nicely with the brown paper.
Why mess with perfection? Other than adding one "memento" from the day, photos from a recent trip to Milwaukee to visit my daughter are an ideal match for this layout.
Layout 3 & 4
This two page spread features more stenciling - this time with Earth hybrid ink on the orange base papers.
Another set of pages where I didn't need to change a thing! Photos of my son and his GF visiting a local farm look like they were made for this layout.
Layout 5 & 6
I love everything about this spread. The clever ribbon treatment with hardware, the paper strips trimmed into banners - I love it all!
I made only a few slight alterations to this layout to accommodate my photos.
In lieu of two smaller photos, trim one vertical photo to fit across both 3x3 mats.
On the right, rearranging the mat configuration allowed me to visually "break up" two vivid butterfly background photos.
Layout 7 & 8
Tricia incorporated more clever ribbon/hardware tricks on the final layout.
More photos from my son's visit to the farm grace these pages.
Don't let a case of "verticalitis" get you down - trim two vertical photos to fit onto a single horizontal mat. In situations like this one, the 8x8 grid ruler is an indispensable tool to ensure successful photo-cropping.
---
I look forward to seeing what memories others choose to scrap on the Meadow collection. Be sure to share your finished projects on the Club Scrap Chat group on Facebook.
Happy scrapping!
Meadow Page Kit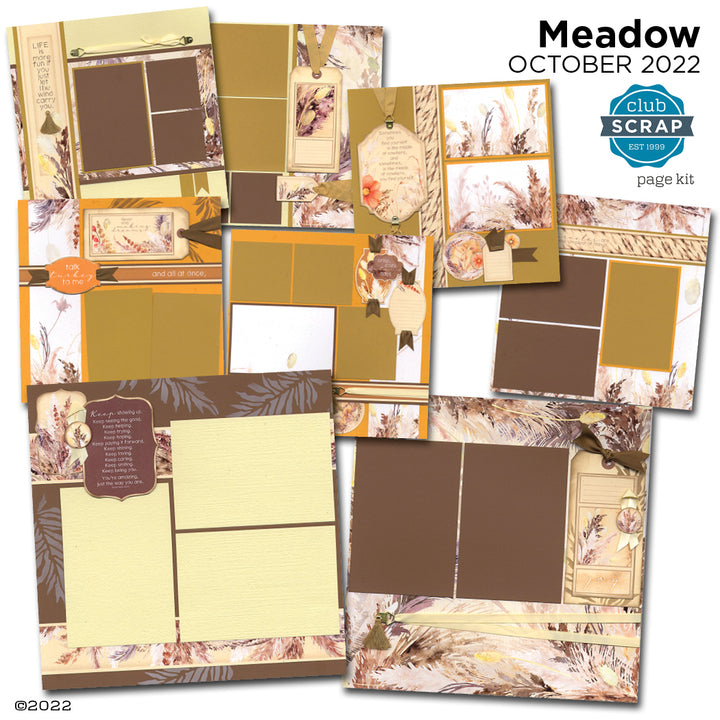 $32.95
Kit includes all of the supplies needed to complete eight fully-embellished 12x12 pages. Just add a trimmer, scissors and adhesive.  Includes: (4) 12x12 Prints, (8) Plains, (2) 12.25x12.25 Printed Cutaparts, (12) Photo Mats, (3) Mini Tassels, (3) Jumbo Tags, (6)… Read More