Create a set of four Double Z-fold Cards from five sheets of 12x12 paper! Simply add stamps (or your favorite Card Kit Cutaparts) along with a few simple embellishments to make a batch of quick 'n easy cards.
Each 4.25x5.5" card features a unique double Z shape, yet folds perfectly flat for mailing in a standard A2 envelope - no extra postage required!
Tropicale
The first set of cards features papers and stamps from the Tropicale collection. Once you purchase and download the formula, gather four plain papers (Papers A-D) and one Tropicale Collage Print (Paper E).
Once the trimming, sorting and assembly for each card structure is complete, finish them with your choice of embellishments. Pair Tropicale stamp images and sentiments with India Black, Tangerine and Ocean Hybrid inks.
Fun and Games
To replicate this set of cards, use the following papers from the Fun and Games collection: Black, Red, Taupe Pattern, Taupe Metallic (Paper A-D) and the Card Kit Print (Paper E).
Embellish each card with artwork and sentiments from the Fun and Games stamps. India Black and Red Hybrid inks are an ideal match for this color palette. Fussy cut select images; attach using foam adhesive circles for added dimension. Get creative by masking the stamped sentiments to make them even more versatile.
Geodes
The final set of cards features papers and stamps that are no longer available. However, I shared them because I believe they help demonstrate the versatility of this formula.
Combine Geodes papers, Hello, Sunshine stamps, Fly a Kite stamps and embellishments from your stash to create another great set of cards.
I hope these three card sets made with the Double Z-fold Card Formula inspire you to make a batch of your own. If you do get crafty, be sure to share the results of your efforts with our Club Scrap Chat group on Facebook. It's a friendly place to inspire and to be inspired.
Happy crafting!
Double Z-fold Card Formula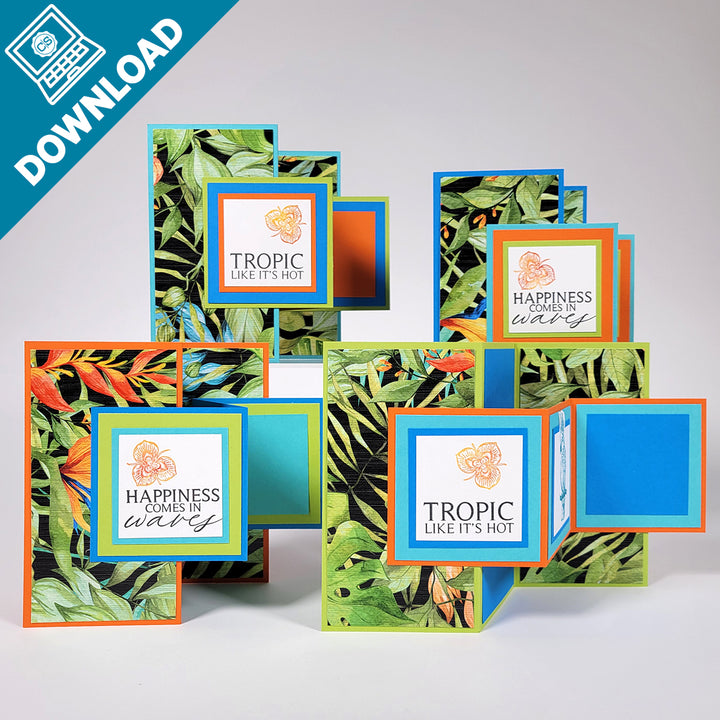 $4.39
THIS IS A DIGITAL PRODUCT SENT VIA EMAIL Create a set of four Double Z-fold Cards from five sheets of 12x12 paper - just add stamps or Cutaparts. Each 4.25x5.5" card folds flat for mailing in a standard A2 envelope.… Read More