October's Chocolate Page Kit is so light-hearted and fun. The layouts are simply gorgeous and with Tricia's assembly instructions and video, making the pages is a piece of (chocolate) cake!
Chocolate Page Kit
Even though each Club Scrap Page Kit creates eight coordinating pages, I may not utilize all of them for a single occasion or event. I usually try to look at each two-page spread independently when selecting my photos.
Layout 1 & 2
I hardly made any changes to the layouts this time around - they were perfect for photos from our trip to California earlier this year.
These pages commemorate our enjoyment of the gigantic donuts available at Simpson's World at Universal Studios Hollywood.
Layout 3 & 4
Only minor changes were made to this two-page spread filled with memories of our visit to a beachside coffee shop, where we had iced mochas and hot cocoa.
In lieu of a single horizontal photo, crop two smaller photos to fit the double mat.
Relocate the journaling prompt from the right page to the left, adhering it next to the pink pocket.
Doing so creates space for two more photos at the bottom of the right page.
Layout 5 & 6
The arrangement of the elements on the left page allows room to tuck in two extra photos - with the help of a grid ruler, of course!
Crop one photo to fit the left side of the sentiment cutapart at the top of the page.
Add a tall, narrow photo to the left of the vertical cutapart.
Layout 7 & 8
This two-page spread showcases the collection of Rae Dunn/Disney mugs at our Anaheim rental.
The square mats feature photos of a few mugs used for our morning coffee.
To mimic the squares on the left side, add three more 2-7/8" square photos to the page on the right. Tuck two into the open space at the top of the page...
...and the third into the lower right corner.
---
I look forward to seeing what memories you'll scrap on the Chocolate collection. Be sure to share your finished pages with fellow Club Scrap enthusiasts on our Chat group on Facebook!
Chocolate Page Kit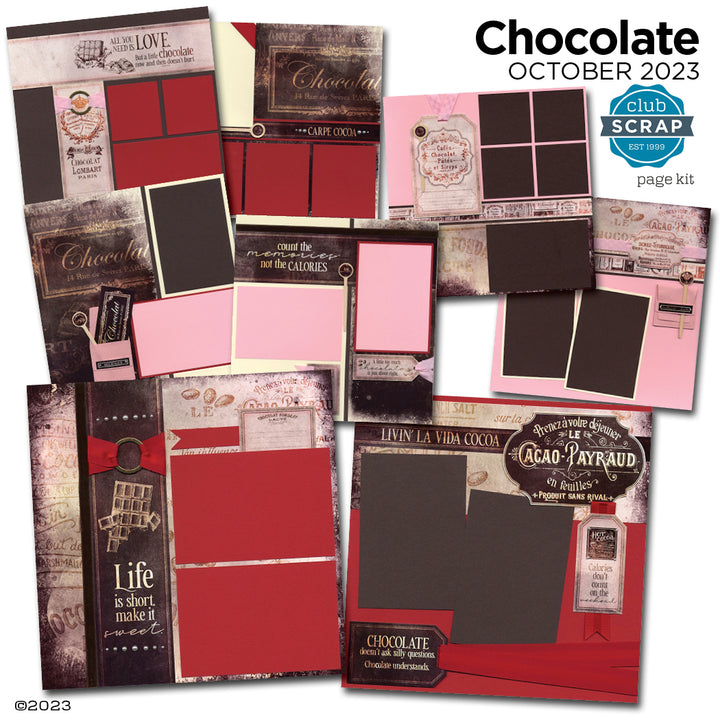 $32.95
Kit includes all of the supplies needed to complete eight fully-embellished 12x12 scrapbook pages. Just add a trimmer, scissors and adhesive. Includes: (4) 12x12 Prints: 2 ea. Dark Chocolate, White Chocolate (2) 12x12 Brown Plains (2) 12x12 Pink Plains (2)… Read More