Transform a Galaxy Page Kit into a beautiful handmade album with Club Scrap's U-hinge Book Instructions. I designed this mini album to hold the plethora of photos I had taken at the Van Gogh Experience in Milwaukee last summer.
Galaxy U-Hinge Book
After completing all eight Galaxy Page Kit layouts and the December bonus layout with photos from the Van Gogh exhibit, I still had quite a few left over. Since the Galaxy theme paired so well with my photos from that day, I decided to make a mini album using the same collection.
To replicate my project, gather a Galaxy Page Kit, one sheet of 12x12 Mat Board and the U-Hinge Book Instructions download. After trimming and sorting all papers according to the diagrams, follow Tricia's video tutorial for final assembly.
Are you ready for a tour of the finished inside pages?
A journalling prompt on the inside front cover provides a place to jot the "Who, what, where, and when" of the occasion.
Don't be afraid to decorate the inside and outside of the top and bottom flaps of the inner pages. A length of Constellation Washi Tape adds visual interest.
Trimming the "hope" Cutapart makes it readable whether the flap is open or closed.
The page kit includes twelve pre-cut photo mats. Add one to the center of each of the six trifold pages. The remaining mats can be adhered to an open bottom flap, or used inside the front and/or back cover.
Decorate the front cover with a Cutapart and Mini Star Patch. Tie a length of that gorgeous teal ribbon onto the cover for the perfect finishing touch.
---
I just love the size and feel of this cleverly designed album! I know I'll use this format again and again for special occasions and gifts. It's a handy project to have in your arsenal.
Good news! Now, for a limited time, save up to 50% on Galaxy items. (Offer valid while supplies last through 08.29.22.)
Happy crafting!
U-Hinge Book Instructions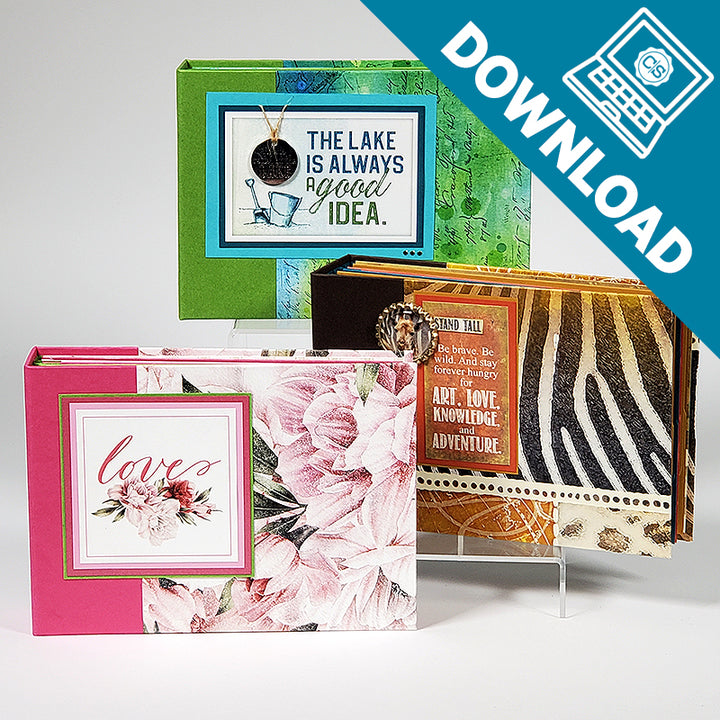 $11.05
THIS IS A DIGITAL PRODUCT SENT VIA EMAIL Learn to make a mini album that can be created using any Club Scrap page kit! The finished U-Hinge Book measures 5.25x7.25" and is designed to easily hold horizontal 4x6" photos. Learn… Read More